It's going to be next to impossible for the duration of my December posts to not
include some form of Holiday spirit in them.
I mean, Christmas comes but once a year and after the 25th day of this month
...
January- March
tends to be kind of
blah
as it has all the coldness
(and then some)
of December but without the cozy, holiday spirit. Thus... my posts will most likely reflect my desire to be in the
s

pirit of Christmas!


Speaking of Christmas, has anyone seen The Holiday? Jude Law, Cameron Diaz, Kate Winslet and Jack Black star in this holiday, semi-touching, comedic movie about 4 confused people finding love in each one another.



Anyway...
(because who cares about that part, really)
,

the

BEST PART

of this movie

-

besides the fact that it helped me to realize that Jude Law was hot
(my best friend always said he was, I never saw it -he seemed too thespian- until I saw the movie- ok Megan, I see the light now!)
-
was by
FAR
Cameron Diaz's WINTER WHITE wardrobe in it.
Love, Love, Love
The

sweaters, the jacket, the scarves

- all so

heavenly

in that creamy, ivory cashmere.The thing I love about the color is that it works just as well in the heavier materials

(jackets, sweaters for when she prances in the snow)

and still looks phenomenal in the lighter materials

( like the satin blouse above

...)

ah, sigh.swoon.drool.

So pretty all over!

Not that good ol' Cam

struggles

to wear clothes in anyway, but the wardrobe designer on set did a seriously

amazing

job in dressing her in Winter White for her character's first Christmas in London. My favorite being this below: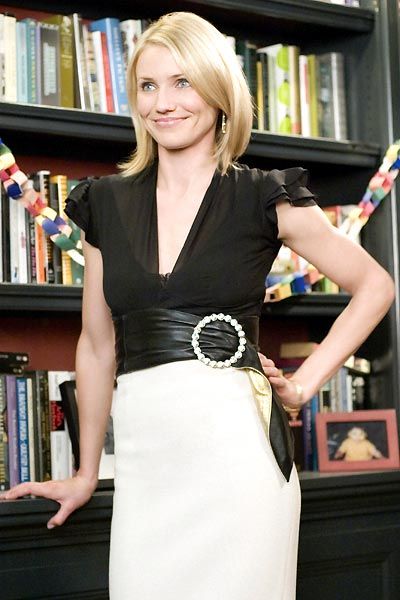 I mean -

seriously

flawless for the Holiday Season. I

love, love, love

how the winter white is complemented with the satiny black and the beautiful rhinestone belt! Great idea as well putting the

BLACK

on top and changing up the skirt color. Want to wear this for a special party? I can pretty much guarantee that any of those items can be found at H&M or F21 for your holiday party

(or mine!)

.

Though I really wish they just sold her legs...



PS: The first picture in this post reminds me/makes me excited for my Annual Girls' Christmas Party.


Happy Wednesday!



Starting w/ the horse carriage images found: here, here, here, here, here, here, here, here & here.