First and foremost, I apologize for the slight blog abandonment the last few days. I had to spend quite a bit of time preparing for something professionally so free time meant doing that and NOT blogging.
Anyhoo,
I'm currently sitting with
The Boy
watching the finale of
The Biggest Loser
. Rarely would I be so inspired by a TV Show to sit here and blog about it
(I mean,
Friends
isn't on anymore)
but this is one reality show that I feel like I enjoy for all the right reasons.
I'm kind of
obsessed
watching this show. Watching normal, beautiful people fight to lose their weight is
always
inspiring - no
matter
what you weigh.
I've never been the 'fat' girl and I think I weighed negative numbers through much of my youth, however now at age 25- I truly find that I have to
work
hard to keep my body in check
- a need I understand and I make the
necessary
effort
...
but sometimes it comes with a few cuss words
.
(Above image found here)
That's why this show inspires me.
20
out of
7
days a week I try to find reasons to not go to the gym,
95% of the time
I lose that fight with myself and head on in to workout. But
5% of the time
, I don't go.
And I regret it later...
because exercise isn't just about weight loss- it improves your
mind

,

body

&

soul

.

(Rebecca LEFT: before, Rebecca RIGHT: after.)
Thus, when I see people who have a
long, long, long journey
ahead of them pushing themselves physically... my heart
pitter patters.
So proud of them!

With that said
... I noted during the
finale
how many of the newly-trimmed gals said that since they lost weight:
"This was the first time I wore a dress in X amount of years!!"
What is with these girls!?!?
On my fat days, I'd much rather wear a dress than try to pry jeans over the
skyscrapers
I call my legs.
So in
honor
of my
Biggest Loser heroes
... with much ado I present a few
super-flattering-"fat day"-dresses
- trust me! You don't have to go years in jeans/black pants because you feel fat!!!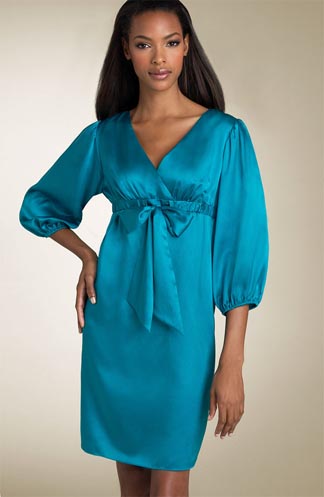 Adrianna Papel
.com
Nordstrom.com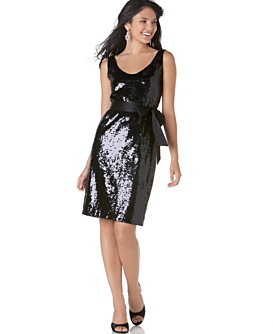 Macys.com
So when feeling fat and looking at your sweats... think of 2 things:
1. Empire Waist Dress
2. Wrap dress

Bada-bing, bada boom!
Have a great night :)