Dahlings, Dahlings...
Warning: Longest post I will probably ever have- at least it's all in PICTURES.
This post has been a long time coming. I have no words beyond the ones I'll share as we go...

I'm sorry to bore some of you but this Blog is personal to me. As much as it serves as a trivial outlet for me to discuss style items I find aesthetically pleasing and brilliantly beautiful; it also has an element of my personal life and events in it. I couldn't possibly let my Sister get married and not go a little buck crazy in a post dedicated to her (and also because my relatives read my blog like good family members oughta).
Here we go... the day of Jocelyn's Wedding.
The morning of her wedding we had breakfast room-serviced (that's not a correct term) to our suite and though neither my Mom, Me or the Bride-to-be were very hungry... we decided having food and coffee was a wise choice. As you can see with the sunlight permeating through... it was a beautiful day. (below)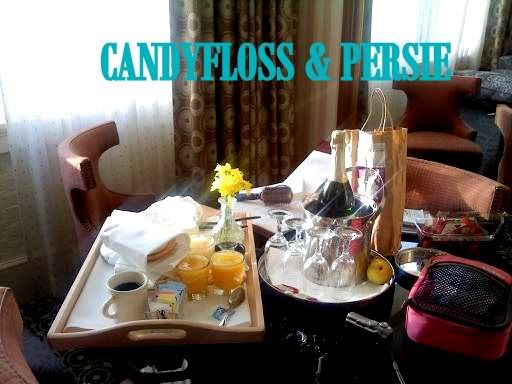 What was horrible about the morning was that I had inadvertently used a face wash that I'm allergic to the night before. So literally... I woke up with completely swollen shut eyes. I'm not talking about some puffiness and redness, I'm talking swollen eyelids, swollen undereyes... bad. I spent the bulk of the morning trying to de-puff them. They went down a great deal but I still did watch my Sister get married with puffy eyes- what a shame!
Anyway, after breakfast... we headed off to a Makeup Salon for Hair and Makeup.
Below: Bridesmaid Amy on Left, Jocelyn the Bride on the Right.
After that it was time to have some Champagne and start getting ready to get dressed for the Big Day at the Hotel Suite.
Below: THE DRESS, Jocelyn and Me having some Champagne before we got into our pretty outfits.

My Sister's dress was just as she is (she's never even dyed her hair!): no fluff, no frills, no muss- just simple, classic beauty.
Below: The Dress all ready to be put on the Bride.
Below: My Sister all dressed and ready at the Hotel.

After we were all dressed and became scared to touch lipsticks and brown/red food or drink... we hopped into a Limousine to roam about town and take some pictures and relax before the event.
Left Below: Jocelyn in the Limousine. Right Below: Mother-of-the-Bride and the Bride.

Left Below: All of the Bridesmaids in the Limo. Right Below: Me and my cousin, Olivia, in the Limo.

Upon completion of our beautiful ride... we arrived at the Venue.
Left Below: Ceremony site. Right Below: Reception site.

And then it was a painstaking couple hours at the Venue hanging out in the Bridesmaids den and waiting for the ceremony to start.
Left Below: Cousin Olivia noshing before the ceremony. Right Below: An anxious Bride!

Below: My Little Brother and Me taking some pictures pre-ceremony

Left Below: Me, little Cousin Charlotte, Cousin Olivia Right Below: Little Charlotte

Below: Me, Grandma Fran, Jocie the Bride and Great Aunt Marg. (2 sets of Sisters)

Below: the Bride peeping at the guests. I love this shot.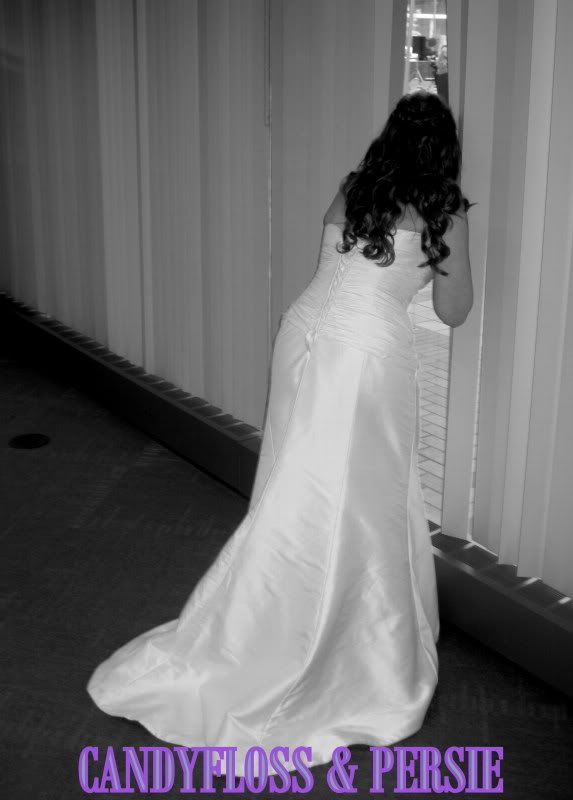 Below: My Cousins Jason, Tim, Ryan & Shawn ushering guests. I think I have the most handsome cousins around.

Below: Jocelyn and her new nieces, the Flower Girls.

And then, before we knew it... it was time to get Jocelyn married.

Below: Dad and Me RIGHT before heading out to start the ceremony.
Below: The Bridesmaids waiting for the Bride.

Below: The Groom, his nieces and his Groomsman. I learned in England that they do not have a full line of Groomsmen like we have here in States. Thus, Jocie and Dan merged their cultures and he had his Best Man and Jocelyn had all the traditional Maids.

Below: The Wedding Coordinator looks on as my Sister and Dad prepare to head down the aisle.

Below: Here she is! My Dad and My Sister.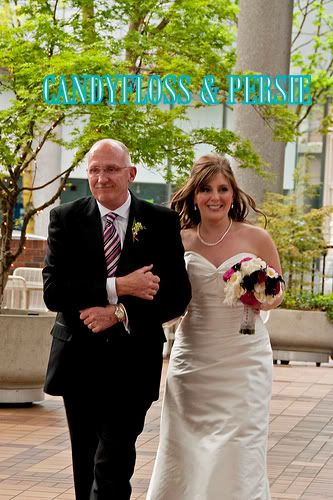 Below: And the ceremony began...I was already crying

Below: I was thinking two things throughout the ceremony: 1) I can't believe I'm witnessing my Sister get married and 2) Don't start laughing... don't start laughing!

Below: Being a good Maid-of-honor and getting my Sister a tissue.

Below: My Dad and Stepmom watching the ceremony.

Below: Getting married, so in love.

Below: Husband & Wife!

Below: Right after the ceremony.

Then while most went upstairs to start having some drinks, the wedding party went off to take some pictures:
Below: All the Bridesmaids after the ceremony.

Below: Karla and Me- our dresses had pockets!

Then, after pictures were taken, ceremony was done... it was time for all the wedding tasks you know and love:
Below: Jocelyn & Caitlin, Sisters & Best Friends

Below: The beautiful Bride

Below: The Wedding Party having dinner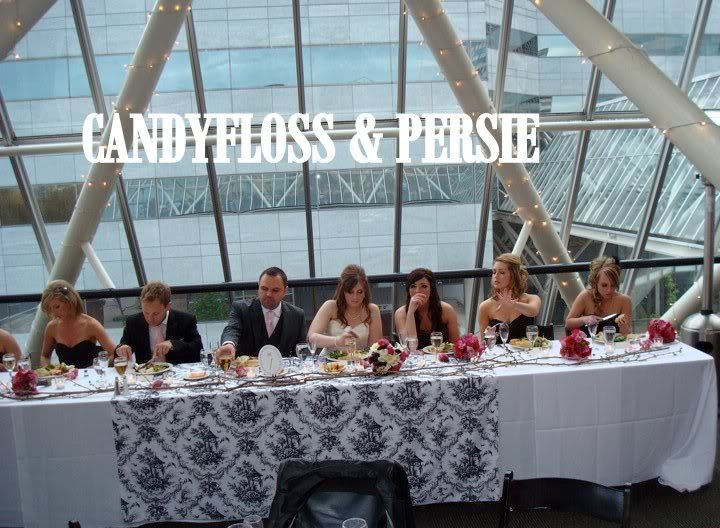 Below: Me, Karla, Cousin Olivia, Cousin Sofia

Below: Father/Daughter Dance
Wedding Toasts
Below: Me, working my way through my toast.

Below: My Dad giving his Toast.
Below: The pretty venue
Below: My Sister, My Brother, Me & Cousin Sofia.

Below: Mom and Cousin Angie

Then after all tasks were complete... it was time to dance the night away:
Below: Sister & Brother
And as quickly as the day started... it ended... I will leave you with 2 pictures that made me laugh:
First: I found my Bouquet/Shoes like this at the end of the night and had to take a picture, I love this.
And finally... The Boy and Me at the end of the night looking all kinds of disheveled, ugly, messy, sloppy and hilarious.
Happy Wedding Jocie

Welcome to the family Dan

Thank you Family/Friends for gathering and having such a ball with us.

& thank you Readers for sharing in my joy.
All images have been gathered from various sources must not be reused in any other medium.