Lately, I've been super inspired by all the blogging senoritas out there who do cute little outfit posts. That idea coupled with one of my own created what you're about to see.
I have been trying my hardest not to shop lately, supremely hard. The last few months have been super expensive for me for a variety of reasons and so I really have no reason to be shopping right now.

So lately I have tried to make my own clothes come together in an outfit that channels someone else or some idea... it helps me to see and appreciate my wardrobe.

Thus here's a few from the last month. I am really not too good at all those grand photoshoots y'all do so mind all the camera, mirror shots..
(Since phone shots aren't the best, you can click all images if you can't tell what the h*ll I'm even talking about. It will enlarge.)

Inspired by:
Cruella DeVil, Charlotte York, Flight Attendants

The Look:
Worn to What?:

To the office! I need lots of layers due to varying heat distribution in my cubicle.

Thoughts:
I am always in love with a good headband. I like the preppiness of this outfit and the way the shirt blends so well with the basic black skirt. The Red zip-up seriously was perfect for maintaining that office appropriateness as well as keeping warm. Totally felt like a flight attendant (specially with my work ID badge) but I very much enjoyed this.

Skirt, Shirt: Banana Republic Red Zip-Up: Nordstrom Rack Headband: Nordstrom
Inspired by:
Gwen Stefani

The Look:
Worn to What?:

Book Club with my girlfriends at a Moroccan restaurant. I wrapped a pashmina around my neck as well.

Thoughts:
I love leggings, I love red shoes, I love long tank tops... not much to say except this was a fun outfit for dinner with girlfriends.



Inspired by: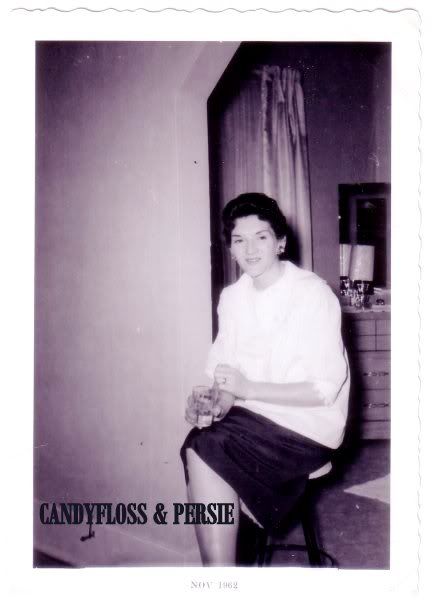 My Grandma

The Look: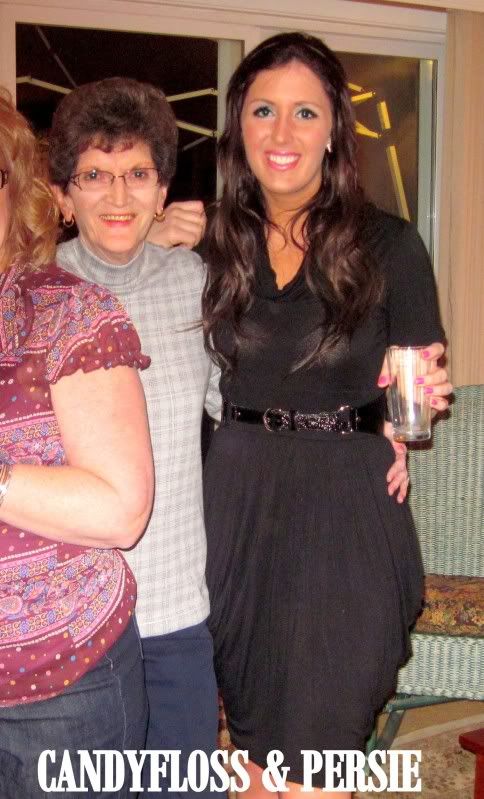 Me and My Grandma again above.
Worn to What?:
To mingle with relatives the days after my Sis' wedding.

Thoughts:
Easy to put together and extremely comfortable. My Grandma has always been a wonderful dresser so it's fun to emulate what she used to wear. She always notices such things- "Oh, you look darling Caitie." I love it.
Dress:

F21

Belt:

Nordstrom
Inspired by:
The Look: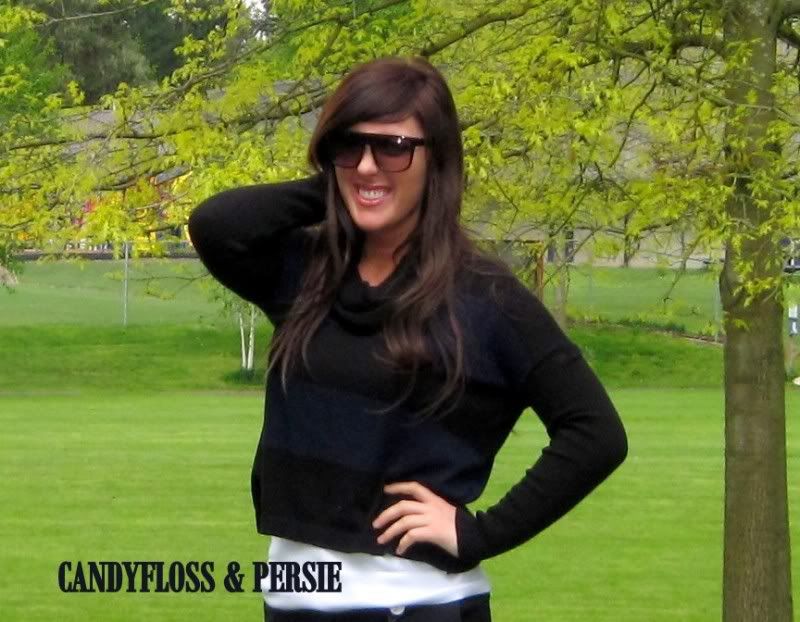 Worn to What?:
To the office. It's been cold lately.

Thoughts:
I love menswear. Love, love, love Menswear. Katharine Hepburn perfectly pulled off said look. This outfit reminded me of her and believe it or not, my Papa in the 60s. Though you can't see them, my trousers are wide and cuffed at the bottom and besides the cowl neck on the sweater, it's a very shapeless, draping sweater. I totally felt at ease and comfortable all day in this and I so much enjoyed the balance of femininity laced with masculinity.
Inspired by:
The Look:
Worn to What?:
Apartment hunt in a trendy neighborhood in downtown Portland.

Thoughts:
That skirt and tank top were actually both quite expensive. The Tank from Nordy's and the Skirt from a boutique in Central Oregon. But you know what? So worth the money. I adore them both and can't even begin to tell you how great I feel when I slip either on. Isn't that skirt just the best?
Inspired by:
The Look:

Worn to What?:
The office!

Thoughts:
Well, purple is my favorite color in the world. That skirt looked like gasoline and I loved every bit of it. It also fused so well with the lace-patterned top. I felt girly, sophisticated, appropriate and wonderful at work. Besides, soon I can't wear those boots anymore!

So that's how I've been staying away from the stores lately.
PS: My work has blocked all social sites from our network and I go to the gym after work every day... so I no longer can be on computer til about 7:30 or later. Please understand that annoyance and know that I may take a little longer but I'll always get back to ya!
So anyway... me and Roger (see above) are out!

Happy Thursday!