I wasn't kidding when I posted a bit back about trying to reinvent my closet by recreating my clothes to mimic others'. I've been utilizing this technique quite a bit lately, especially in the workplace.

Here's a sample of inspired work outfits in the last week or so:
Inspired by:
The Look:

Worn to What: To the office on Friday, May 14, 2010.

Thoughts: I fell in love with this dress the second I saw it. Perfect shade of blue and appropriate enough for the office without being too stifling. And... it was cheap. Only downside? It wrinkled like a mother...
Dress: Target Belt: Nordstrom

Inspired by:
Carolina Herrera: both her designs and style

The Look:
Worn to What: To the office.

Thoughts: As I've stated many times before, I'm a big fan of menswear, especially in the office. Thus, I paired my black, pleated skirt with an embellished oxford and garnished it with one of my favorite belts I've ever purchased. I thought the suede of the belt toned down the formal look and gave it a little something extra.
Shirt: Nordstrom Rack Belt: Banana Republic Skirt: Thrifted

Inspired by:
The Look: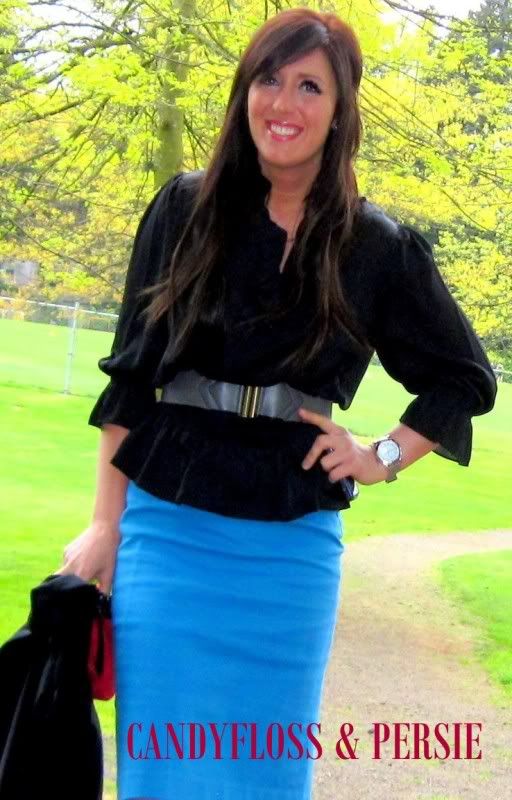 Worn to What: Work

Thoughts: Obviously this is not the exact same outfit as "career barbie" but the elements are the same: big, flowy, wispy blouse paired with an over the knee pencil skirt and a belt. I love it.
Skirt: Banana Republic Blouse: Nordstrom Belt: Urban Outfitters
Sidenote: That black briefcase was a college graduation gift from my stylish and beloved Aunt in Pennsylvania. It is my lifeline and I think it's quite possibly the prettiest bag in the world. I've gotten more compliments on that bag than anything else I own I believe.

Inspired by: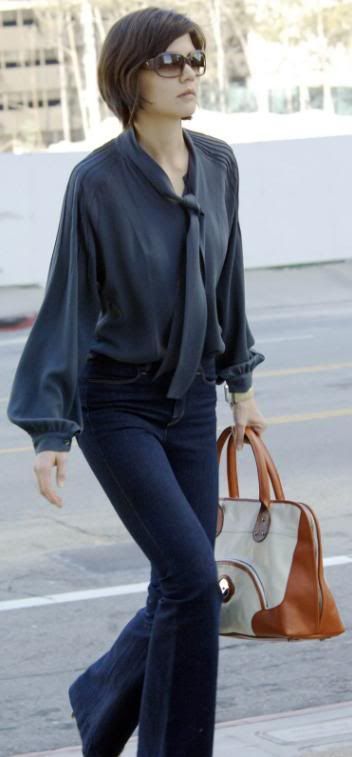 The Look:
Worn to What: Office

Thoughts: The "tie at the neck" blouse might be my favorite go-to office look. Completely conservative, uber-girly and radiantly effortless.
Blouse: I don't remember! Might have been a consignment store. Skirt: Vanilla Boutique in Bend, Oregon.

Inspired by:
The Look:
Worn to What: Office...

Thoughts: Differing from the Oxford look, this white/black combo is a bit more laid-back and trendy. I love the tight white shirt (shirt material is thick as to not see my bra- important for an office) and I simply paired it with a different black pleated skirt and a big bangly necklace. Fun, simple, easy.
Skirt: Nordstrom Rack Necklace & top: F21
I hope I leave you all a little inspired to make better use of your own closet! I'm certainly having fun with it!
Have a wonderful Tuesday, I'll be reading Blogs tonight. Was planning on getting to it right after posting but this stupid post took me about 70 light years so I'll do it after work!

(PS: yes in my video log below, I don't know why I felt the need to say 500 times that I'm not going to be a video blogger, ugh- I cringe watching videos of me! Also did anyone notice I wrote the title completely wrong? It makes no sense! I think I was tired last week)