This week has been black, black, black.

No! Not because the weather has been bad (it has picked up a bit much to my complete and utter delight) but because our office has been swarming with... dum dum dum... bigwigs from our corporate home office.
I personally believe that every Boss in the history of time likes when he/she sees that their employees put some effort into how they look at work. It may be a casual atmosphere and you might not see clients in your day-to-day but damnit, I swear Bosses appreciate seeing you making an effort to look like you're at a job and not at a backyard grilling (why are people still wearing Fleeces & Doc Martens to work?- explain this to me.)
And when your Boss' Bosses are in town-- I guarantee they appreciate you dressing a bit more appropriate and put-together.

I took that to heart this week as our sweet little office has been swarming with suits from the East. I wanted to remain as I usually am at work (dresses, slips, blouses, etc) but remove loud trends that I sometimes add (large necklaces, bright-colored dresses). And, I have found over the course of these last few (documented) days- that to me, "work summer semi-formal" is Black & White.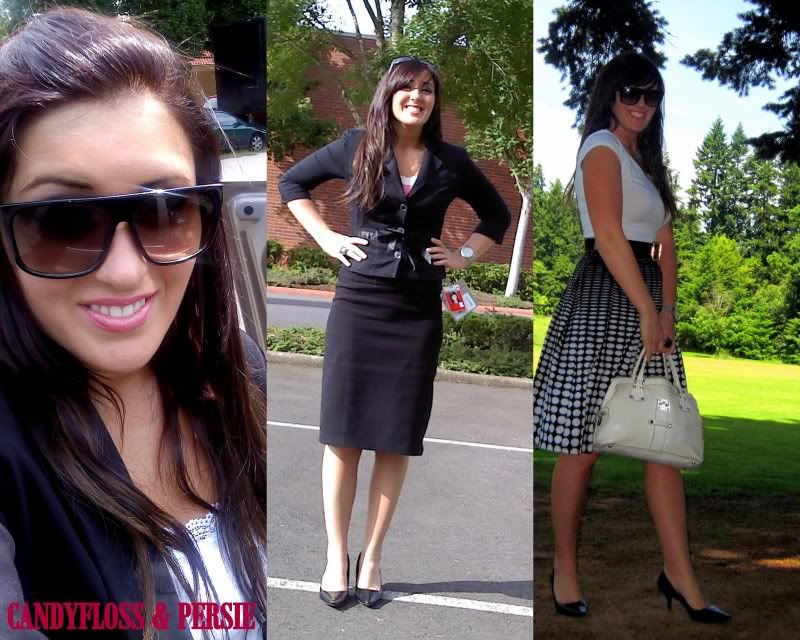 Okay- the one in the dead center was worn for drinks after work but it works with my whole "only black this week vibe".
Few things of noteworthiness:
I think simple, black, pointed pumps are necessary for all girls: they're classic, elegant and work when you don't need or want your shoes to speak for you- they're understated style.


I am obsessed with my Calvin Klein full, polka-dot skirt. (shown in 4 images). I love the work-appropriate length, I love the diminishing design... I l-o-v-e it

(it has pockets!)

.


Belts are so great in the office.
(I took the above shot on my drive home from work 6.24.2010 and even though it was a Thursday, I think it looks like a Friday 5 PM shot. Also, my Sister has told me my whole life that I have the ugliest feet she's ever seen - so I dedicate this picture to you Jocelyn.)
Well, today is Friday! And that means that at 5 PM sharp... I will no longer care about dressing in a formal manner without trends- I will be ready to kick off the black pumps, slip into something more comfortable and relax... weekend, weekend! :)
How are you spending your weekend??
PS- thank you to the lovely, talented Holly for awarding me in her "Tickled Pink" series!!! I love her artful, creative, warm blog and love that I'm part of her Tickled Pink series- thanks Holly!
♥Follow me on Bloglovin here!♥