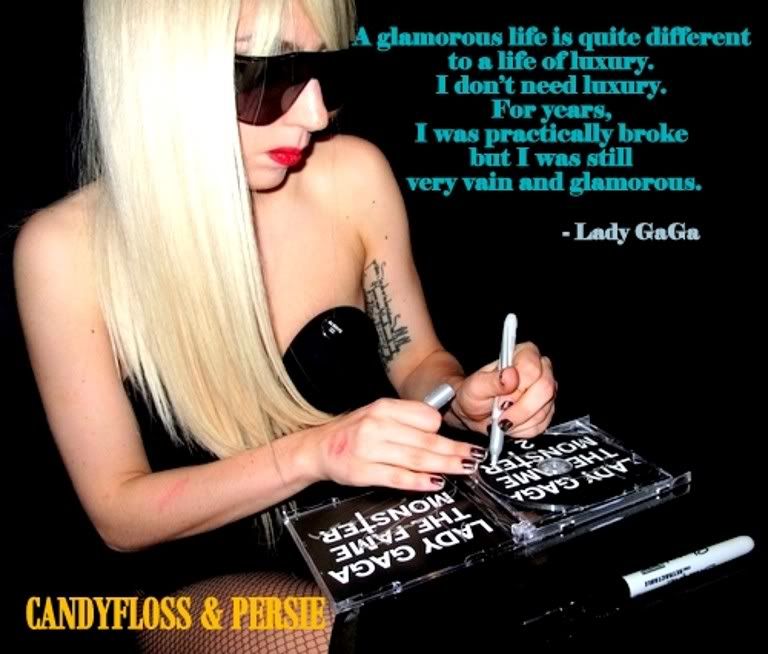 Oh Gagaloo - another hit, though this one comes in the form of merely words sans rockin' beat and insane 9-minute music video.
I read the quote above last night while I got my hair done and it instantly struck me- "what a cool thing to say". As I moved from that page (Lauren Conrad had an article later in the magazine... must flip pages fast!) and eventually left the hair salon, I started to really think about those words.
In my real life (and my blog life), I am surrounded by women who can relate to what she said. Now I love reading a variety of blogs- seriously: Men's blogs, Housewives' blogs, Blogs about crime, etc. but I do also read a plethora of blogs of girls just like me: 20-something, new in career, old enough to be stable and on our own but not (yet) drowning in money. We use our blogs to express what we like, what moves us, what entrances us with its beauty, art and femininity (or masculinity!).

To the untrained eye, these dalliances in vanity whether it be displayed on our blogs or merely the conversation topic at lunch with your friends; can seem to be nothing more than shallow banter among smug circles.
...But to the contrary- our "glamour and vanity" (thanks Gaga) are what we're creatively holding to. We wanted to be Beekeepers, Marine Biologists, Pilots when we grew up but as we aged, we realized that there's great comfort in a secure job and a steady paycheck, even if it's not the job we always envisioned.
So where does the creativity go? How do we bring art into our lives at a time when we have to balance it with our rent payment?
We dress ourselves, we decorate our spaces with the means available to us- we make what we can, where we can and how we can- glamorous.
And the joy that comes from this freedom of self-expression, is so far-removed from shallow and so wonderfully necessary to our very beings that it would truly be a tragedy to deny it.

Dress On...
Image via Weheartit

♥Follow me on Bloglovin here!♥