Oh Monday, you are an unwelcome visitor! I just hate the thought of sitting at a desk, doing my working thang after have

two whole days to do whatever I want

. On Saturday, my girlfriends and I embarked on the 1.5 hour drive to

Astoria

(very NW tip of Oregon)

to partake in a Murder Mystery party that we purchased a little more than a month ago at my friend's auction. I

(obviously)

will have pictures of that later for you but I wanted to share the image that

I took on the Pier in

Astoria

as we ate lunch on Sunday on the way home

[below].
[our view at lunch in Astoria. Taken Sunday 4/3/2011]
There's so many wonderful places in Oregon and I always try to remember that a

change of scenery, change of pace and new places to explore

are always about an hour away

(in any direction)

.
PS-

I'm so glad it's April

. I seriously hate March. It's just an

ugly month

. I think it's mainly because the Winter-Spring transition is disgusting and March falls right in the middle of that.

Onward and upward!

And getting closer to Summer... makes me want to wear this,

pretty much right now: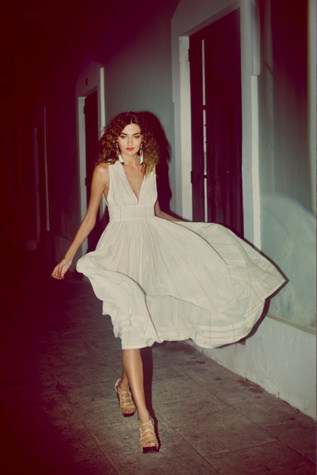 Free People
Threaded Lurex Maxi Dress $128.00. Found
here
.
But maybe that's just because I want to have that body and a dress that flows like that, so hopefully it comes with a wind machine. Anyway,

Mondays are stupid but enjoy yours!