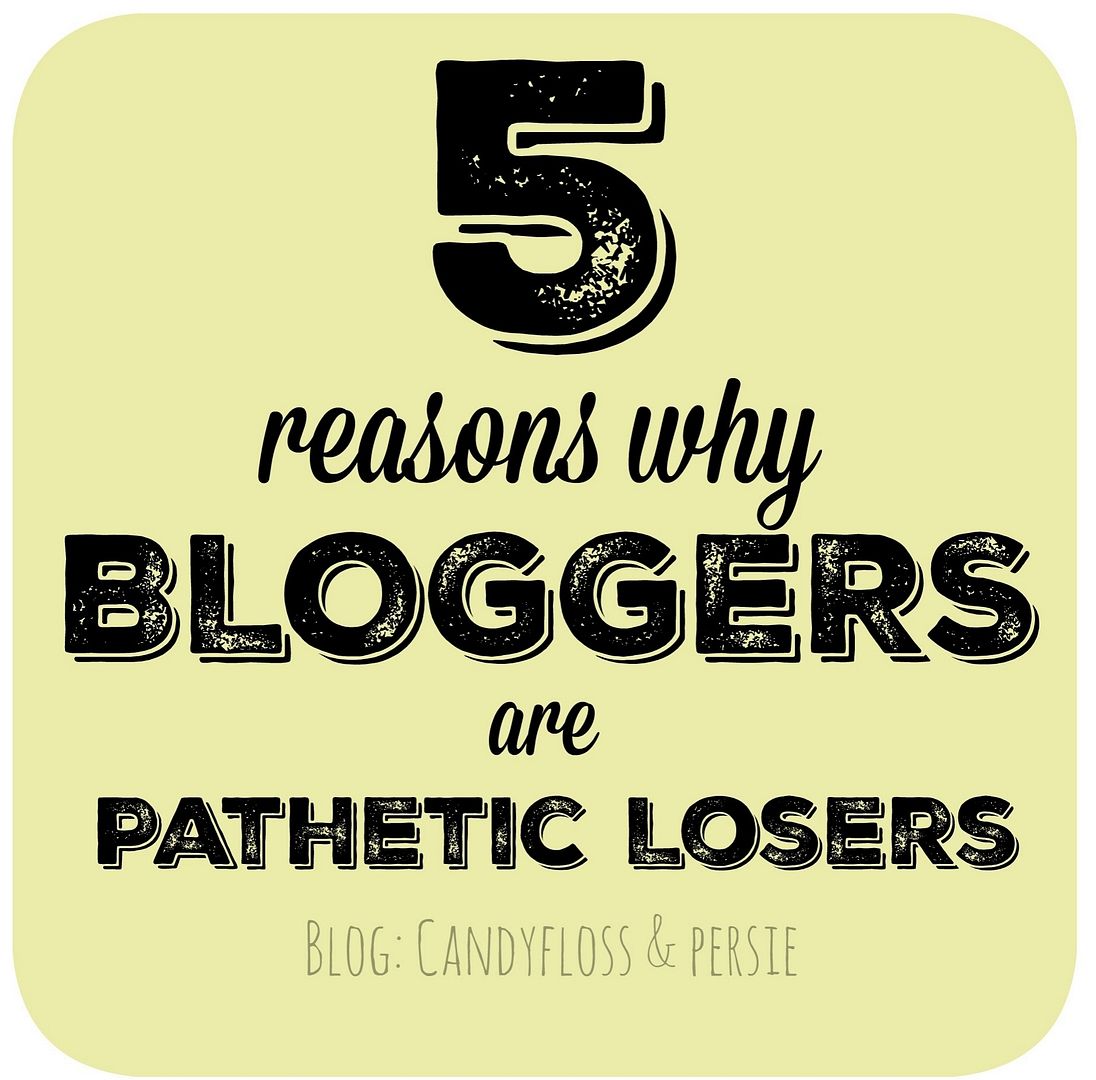 When I decided to start a Blog in 2009, it was merely for my own pleasure and enjoyment. I needed (and have always needed) some type of outlet like this. Documenting my life, writing about it etc. wasn't new at all - that has always been me (see: my 500 journals that look like scrapbooks). However, the firestorm I walked into (as fun as it was)- is far more political than I realized. People seem to have very strong opinions about blogging- good and bad. And this has lead to a lot of thought about what this Blog is all about... and I decided (true to my self-denunciation form) that the following post is how I wanted to address the issue.
___________________________________________________
5 Reasons Why Bloggers are Pathetic Losers
I run a 'Whatever' Blog- meaning that I write whatever I feel like. So while I don't try to commit to a 'Fashion' Blog- I still like a good ol' outfit post every now and again. And when I do post one, what you see a picture of a girl innocently showing you what she wore. But how did I really get that picture? Welp; I got ready and deemed what I wore "post worthy". Upon determining this, I then allot 15 minutes of extra time before we take off so my poor Boyfriend can take a picture of me. Then, we stand (usually) outside while I strike awkward poses to the same rhythm of his eye rolling and boredom. It's pathetic. And then I post a "What I Wore!" blog and call it good. Yes, it is what I wore, but what kind of loser needs to showcase it like that?!? When you picture a bunch of Bloggers doing this (even the ones in couture), please tell me you see how ridiculous it is and feel better about yourself.
I have a nice camera. Due to my lifelong hobby of taking pictures, eventually ending up with one of these was as inevitable as Jessica Simpson's pregnancy weight-gain. But DSLRs are cumbersome and a little rough to use in some cases. Take THIS POST for example (image above from it). I DO make these drinks constantly and that is how I make them. But do you know how hard it was to do that post and capture the process by myself? I literally had to sit there with the knife in my hand while my shaky left hand tried to take a picture with the other hand balanced way above my head. Reallllllly picture that: Crazy girl on her balcony with a staged knife and a shaky left hand trying to capture the moment. My poor neighbors.
In 2009, at about 11 AM, I wanted to start a Blog. By 11:04 AM same day- I had a blog set-up! Well that was certainly hard. I never get Bloggers who act as if they are so tight simply because they spent 2 minutes creating a password, picking a name and throwing some words on the screen. Oooo-Ahhhh!
We are all allotted the same amount of hours in the day, so the discrepancy becomes not how much time we have but what we use that time for. I work full-time, I workout thereafter most days and I maintain a social life. On top of that, I write this Blog. And what all Bloggers know (and most readers do not)- is that Blogging is SOO time consuming. From the idea-plotting, to the photo editing- it's a complete time suck. Sometimes I'm up into the wee hours trying to orchestrate the 'perfect post'. Dear Lord Caitlin, no one cares! Go to bed. And guess what else? When I don't post for a few days- here's the amount of people it affects. Ready? Ready? 0.
I am being so, so severely honest when I say that half the reason I Blog is to interact with others. I feel like I have pen-pals all over the world. And that is precious to me. But I'm turned off by any Blog that starts acting as if their Readers are their "fans". Sayyy what? See item 3, please! We do not have fans. We have people who have found something to do between 8 and 8:15 while they sip their coffee and delay the inevitable workday. And if they too wanted to join this 'elite' crowd, they could officially join in 4 minutes by creating their own Blog. So you, dear Reader, are far cooler than anyone else who misconstrues this as celebrity status. In fact- you are much cooler than me for going about your day without feeling the need to tell people what you did. And I mean that earnestly.
___________________________________________________
So the next time you read a Blog and get down about what you can't afford or don't have, remember that your jealousy stems from someone who sits at home and sets up pretty little home decor landscapes, or tendered, sweet outfits to put on their Blog to share for no apparent reason at all.
And to Bloggers who take offense to this: I come in peace. The only thing I love more than Blogging is a healthy dose of self-deprecation so do as I do and shamelessly write on.