"P.S.Y.C.H.O."
That was the text response I received from my sister last night after I informed her of what was on my grocery store list.
Well, my Sister can get over herself because if we want to make a birthday cake for Chandler to celebrate the fact that he is ONE WHOLE YEAR OLD today, then we will do it.
Well, at least it's when we think he is that age. Chandler came from the Humane Society and his backstory is that he was found at a construction site at about 5-weeks-old with his sister as they tried to nurse a dog that wasn't their mom. As no one knows their exact birthdate, this was the shelter's best guesstimate and we will surely take it. Once we got all his paperwork I informed Jay that we would always celebrate 2 dates with Chandler: His birthday & the day we adopted him

(3/24)

.
I can understand that some people

(ahem, my sister)

think that celebrating something like this is kinda going overboard. However, it would be sacrilegious not to after my love affair with him. And really? Celebrating a dog who doesn't know the difference is not too far off from a baby's first birthday while they are suffering from infant amnesia. It's really a party for everyone else to toast on the love they feel toward that little being.
Chandler has brought so much joy to my life since we got him in March. I really can't describe it and I really can't explain how much I love him. I love taking care of him. I love that he needs me. I love that he knows us. I love that he rests his head on my head while I watch TV. I love how he totally commits the robbery on the good bed spot whenever I get up to use the restroom in the middle of the night. I love that he is good company when Jay is gone on his frequent work trips.
For instance, Jay was in NYC last week and I didn't feel starved for conversation while watching the Golden Globes. He looked and responded to me in his own way. He gave me kisses. He totally LOL'ed at the Clooney joke like me.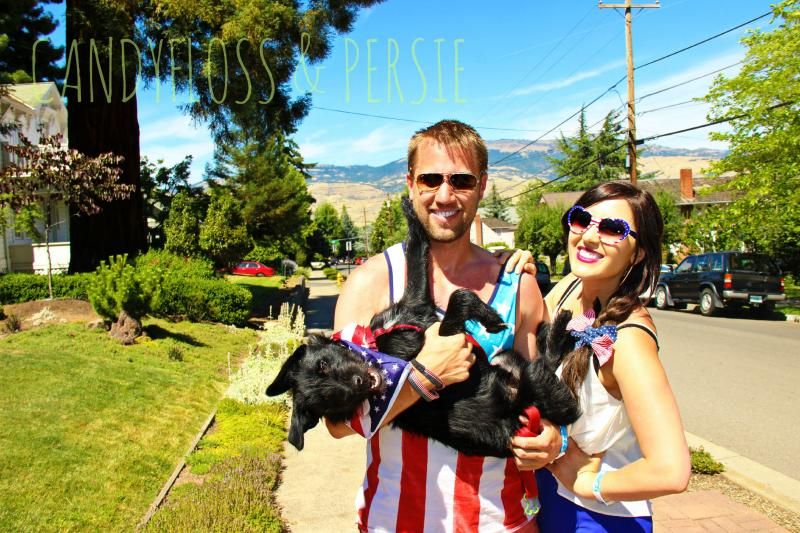 I mean, dogs are just d*mn good people.
And I would never fail to celebrate good people.
Happiest birthday my sweet little one, thank you for being you!
(except when you're doing that horrible, whiny, pitchy bark you just lovvvve so much)

.
I'll be sure to do a follow-up post of his birthday, so you can see just how P.S.Y.C.H.O. I am.