Wearing// Spring clothes! Shoes that show my toes [Note to self: Time for a pedicure cheapo], work outfits that don't involve a huge pashmina over my suit jacket & loose, "holey" sweaters that aren't miserable when a breeze rolls by.

Watching//
My 'Modern Family' DVDs and obsessing over Gloria's hair/curves/makeup/genetics/existence per the usual.
Excited to//
Make pizzas on Sunday and snuggle up my nephew this weekend.
Feeling// Chandler's little face resting against mine (and people say they hate the weight on their shoulders).
Listening to// Beck's "Morning Phase" at home & Girl Talk's "All Day" at the gym.
Looking at//
Jeff Koons' artwork. Why do I want the balloon dog?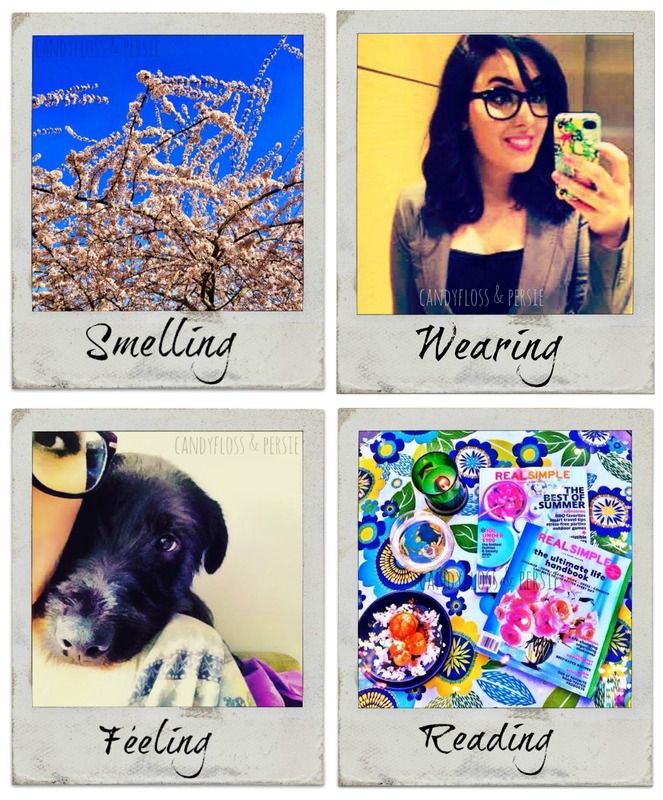 Wanting//
a 21.5" Apple iMac more than I can even explain.
Reading//
'Real Simple' magazine cause it basically tells me how to be a better human and I reserve the right to not listen to any of it. But I enjoy the preaching.
Hoping//
We can make a trip to Paris in September. So far, the stars are aligning.
Crossing our fingers that we get good news about the timing in the next two weeks.
Drinking//
Jasmine Tea. All day at work. It smells and somehow even tastes like an actual bouquet - and I have no idea what that would even taste like.
Smelling//
Cherry Blossom Trees & this gorgeous Soy Vanilla Candle that is flickering in my kitchen right now.
What's up with you today?