Cuddling// Chandler. This week had a nice big interruption of Chandler's first visit to the ER & overnight ICU stay :( hence my lack of posting last couple days. I'll explain more next week but holy heck, I'm so glad he's okay. That was terrifying.
Watching//
"Orange Is The New Black" and just a couple eps away from the end of season 3. Funny to hear Lori Petty talking away, one of the other prisoners needs to tell her to lay off of those high ones.
Dreading// Heat wave this weekend. Supposed to hit 106 degrees on Saturday! What the ... If you need me, I'll be melting with the Wicked Witch of the West.
Typing//
with company! I took my new laptop to a local bar, enjoyed the company of the bartender I
know quite well and knocked out some blogs. Not too shabby.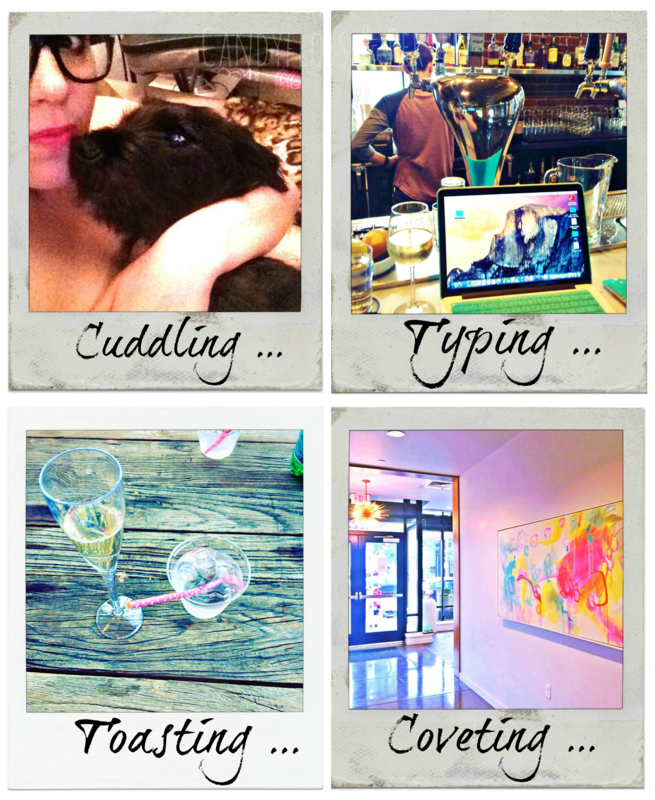 Toasting//
One of my longest friend's engagements!!! When you've been kickin' it with someone since the GD nineties, it's exciting to reach these milestones together.
Working out//
Six days a week and eating right during the weekdays. Finally in my sweet groove while still gorging myself on the weekends in the spirit of that 80/20 logic which I love so much.
Coveting// Large pieces of art. Want. Want. Want. Like the pictured one in my building. I also half wonder if I could just make something like that myself by slinging paint at a canvas, signing my name in the corner and faking everyone into thinking it's a very sought-after, famous piece of art.
Have a great weekend!