Reading
//
My new subscription to San Francisco magazine. Pretty pumped about it, as well as the gorgeous 'welcome to SF' flowers Jay had waiting for me when I arrived Monday evening.
Writing//
Blogs. I'll be back with a full workweek of blogs ready to go next week! It's been annoying being too scattered to post them but whenever I thought I should blog in lieu of packing or unpacking, somewhere in the distance I heard a cackling laugh.
Noshing//
I went to Rose's Cafe this week for a dang break from unpacking. It's right up the road, looked adorable and had outdoor seating to accommodate my little leashed sidekick

(Jay has been in NYC all week for work)

. Turns out, it's actually a really nice place and when I ordered a side of fried potatoes

(because you know, #diet and stuff...)

and roasted chicken, I didn't realize I was ordering an entire platter. But yum was it good. And it made for a great dinner the next night too.
Wearing//
So many things I forgot I owned and have unearthed the last few weeks. I'd like to thank my hoarding abilities & my lack of organizational skills for always surprising me like this when I move.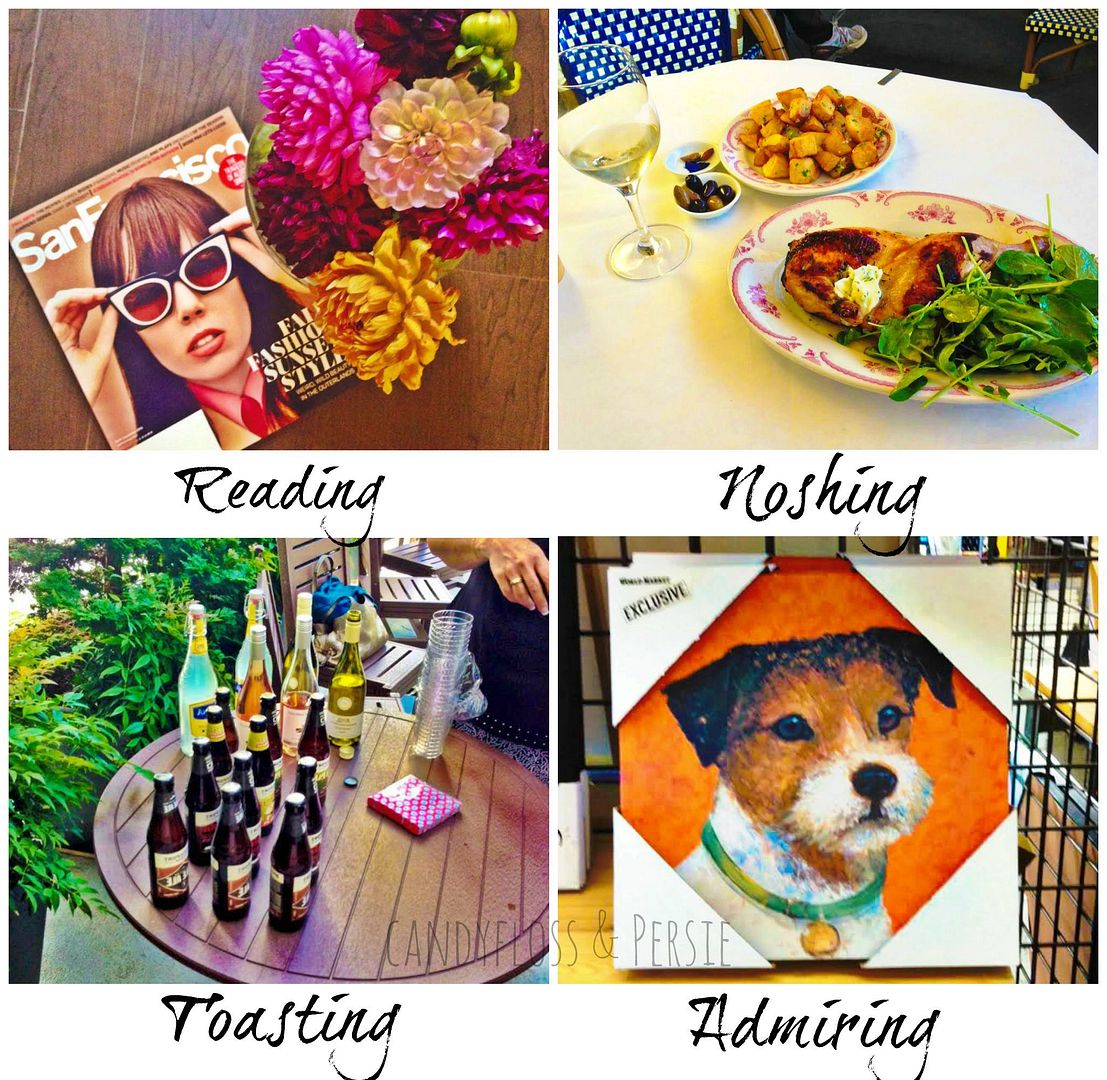 Toasting// A goodbye to my Portland office! My colleagues threw me a little going away happy hour on the roof of the building. It was sugar and spice (and everything nice).

Excited to// Have our first full weekend in SF!! We have a lot to do yet and errands to run (we need some furniture after living in a smaller place previously) but it will still just be so nice to be here together. The world is our oyster!
Admiring//
That little print I saw while out shopping. I didn't get it because it doesn't really go with my stuff but dangit if that little chin scruff doesn't remind me of my favorite little doggy (he is part JRT after all!).
Feeling//
The burn in my legs. We hiked Mt. St. Helen's last weekend

(more on that next week)

and honestly, the soreness I have from that + all these SF hills has me loudly moaning anytime I go on a walk. OWIE, that really hurt Charlie and it's still hurting.
So happiest Friday to all of you! Looking forward to being a reader/writer in blogland again on the reg next week :)