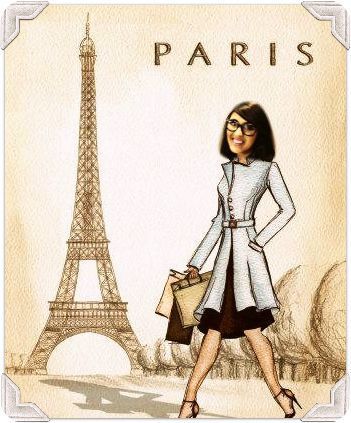 In the hubbub of moving and all my attention focused on that, I have barely had a chance to reflect on the fact that I'm going to Paris in a few weeks. WHAT! It is beyond telling that I have been so consumed with life that I have barely even Googled anything about it in anticipation which is so far removed from who I am. And though this trip has snuck up on me mentally speaking, it has been in the works for about two years now. Jay's Mom is there to celebrate her 60th and and has long wanted her sons there with her. So by extension- that includes me. Yay! And as luck would have it- my Dad & Stepmom will be there for a bit of the time I'm there too. A big ol' family event way over there in the city of lights.
As a Paris newbie, I will have to visit the Eiffel Tower. Which sounds beyond heavenly on an idealistic level but I'm no fan of all other symptoms of huge tourist attractions: Lines and waiting. I prefer to roam a bit on my own and let my eyes and nose lead me wherever they desire on vacation. With regard to that, I'm hoping to spend most of my visit freely perusing rather than holed-up in a "queue" for all of eternity except for the few things I just can't bring myself to miss like the E.T.
I'm mostly excited to eat bread, drink wine, take photos

(new lens, woot!)

, roam the streets and love up my family during a very special experience.
Have you been to Paris? Any "Must Do!" items to relay to me? I'm open to all!