Buddying-Up
//
With my little dude. That's my iPhone capture of my view when I took these pictures. I've started to really, really miss having all my/our Portland friends around but he is always a great little comforting sidekick. It's also hilarious that I had never driven over the GG Bridge prior to moving here and now we're there quite regularly.
Watching//
"
The Social Network
" as I type this. I am the exact same age and year as Mark Zuckerberg
(and totally rocked many variations of that GAP sweatshirt he's wearing in the opening)
. Anyway, knowing that we were in college the exact same time at the same age/grade, it's quite clear based on his outcome in life that we made very different decisions every minuscule moment of every stupid day during every single term ... wahhh.
Envisioning//
Our next neighborhood in SF to be North Beach. I know we just moved here and do not take this as me saying I don't like our digs now or that I'm complaining. However, we had to move here quickly without knowing much and the common thought is that your 2nd place in a new city is often better than your first since you get to know where you actually fit. Who knows what will happen but North Beach is like NW Portland

(our old hood, very trendy shops/parks/restaurant oriented)

but with an Italian theme. Sign me up. That image is during our last day date there.
Wishing//
I took joy in nail painting. I don't know how you girls who always have perfect nails do it. Nothing is more boring to me than taking off nail polish

(cause it chipped after one day, weird)

, painting my nails and then trying to not touch sh*t for the next hour. It never works and I always end up with weird blobs in my freshly painted nails which still proceed to chip the next day. Entire process just makes me want to take a big ol' nap.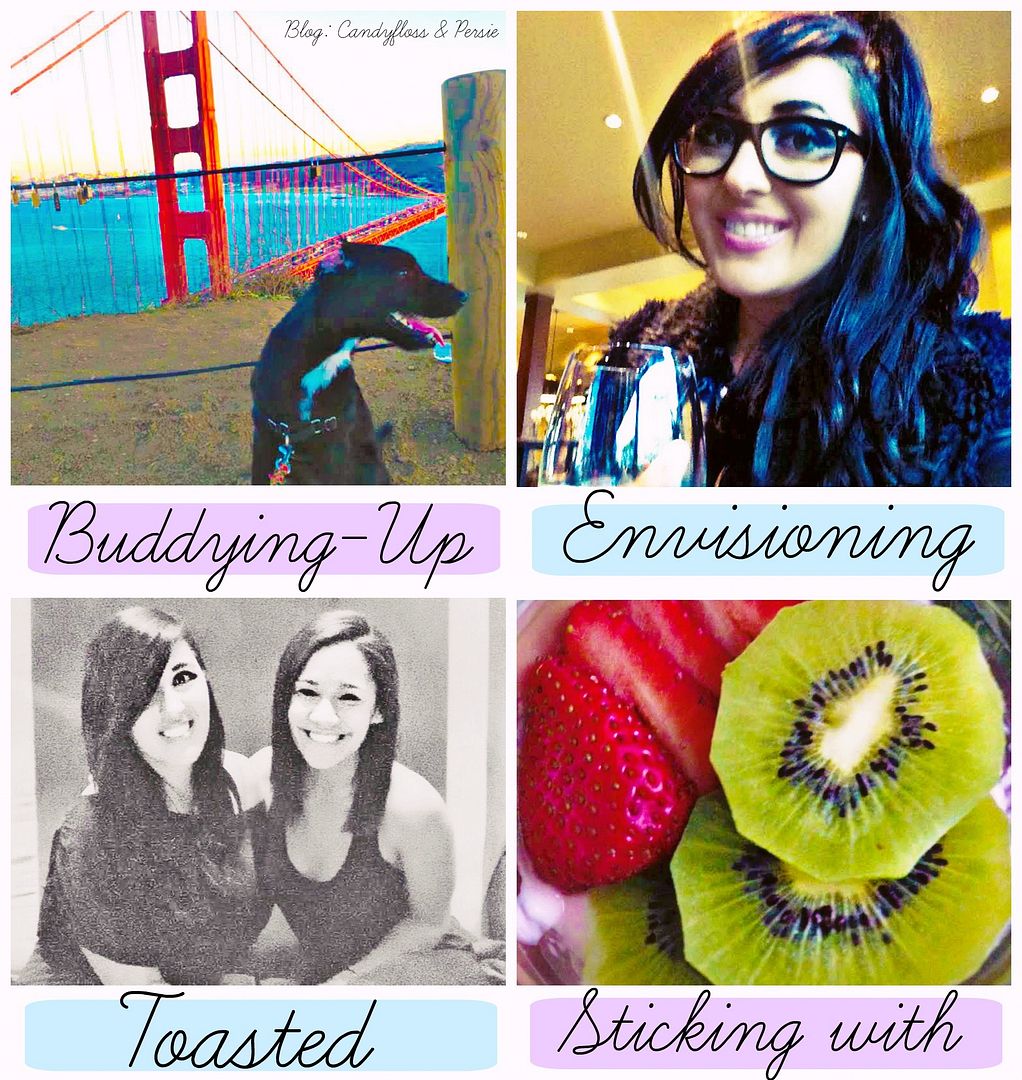 Toasted
//
A drink in downtown SF at
The Redwood Room
with my friend Kiesha who was here for work. It was so fun to see her and have a drink with her beautiful self. Especially enjoyed her having to tell a man in his sixties who asked her to out to dinner that she was married.
Obsessed with//
all the "Back To The Future Day" hype. How fun was that?!? Like everyone else, that
movie was a staple in my life growing-up
(mostly because my little brother was enamored with it)
. However, I have one lingering thought: Why was Marty allowed to hang out with Doc on the reg' while he was still in high school? I'm fairly certain that if I was 17 and was like "Bye, Mom and Dad! Off to sleep over at my pal's!" and a seemingly crazed, hermit 50-something year old man was there to pick me up, I'd spend the rest of my high school years enjoying social events in a large hamster ball.
Sticking with//
healthy/less restaurant food. Remember HERE when I said we had been surpassing our normal restaurant financial/caloric budget? Well since we're back from Paris I'm trying to keep ALL eating out reserved to weekends only. I shopped for our food last Sunday and have fought the urge to eat outside of it all week

(hard to do in a new city!)

. 80/20 diet for life but it doesn't work if you can't stick to your weekday 80% sadly.
Loving, loving, loving// THIS VIDEO.
If that doesn't make you excited that the workweek is over, I don't know what will. I imagine even hipsters would have a hard time not cracking a smile as they watched.
Have a great, great, great weekend!!!!
[Little Things Lately reflects little things I did/thoughts I had/images taken from my phone]