Toasting // NYE in San Francisco. In that iPhone snap, Jay and I were starting our little city walk about for the holiday kick-off. But before we peppered into our first location, we walked down to the Marina and stared at the Golden Gate Bridge in awe of this year. Sometimes it's hard to believe we live here.
Realizing // that I missed San Francisco when we were in Portland. For a long time we have felt like foreigners in a new city. I'm starting to feel a bit more like this is home as I become more comfortable little by little with our new place, new office and 2016 opportunities to spread my wings and break my shy streak.
Soaking-Up // Our exhausted dog. For two weeks at my Dad's house he was enveloped in a huge backyard, dog friends and numerous family members who played with him constantly. He was loving life and basically spent the entire time bouncing from room to room like a greyhound out of a racing chute. But since we've been back, he's been so, so, so, so cuddly and we can't get enough

(we think it's because he's just exhausted)

. I took that pic of him as I did my hair in the bathroom and he just stood next to me, hoping to get invited onto my lap on my little get ready perch. I die. He's so cute with his little teeny ears.
Drinking // so much tea and water per January rules. It helps me not snack and think of all the steps I burn heading to the bathroom to pee every 5 effing seconds.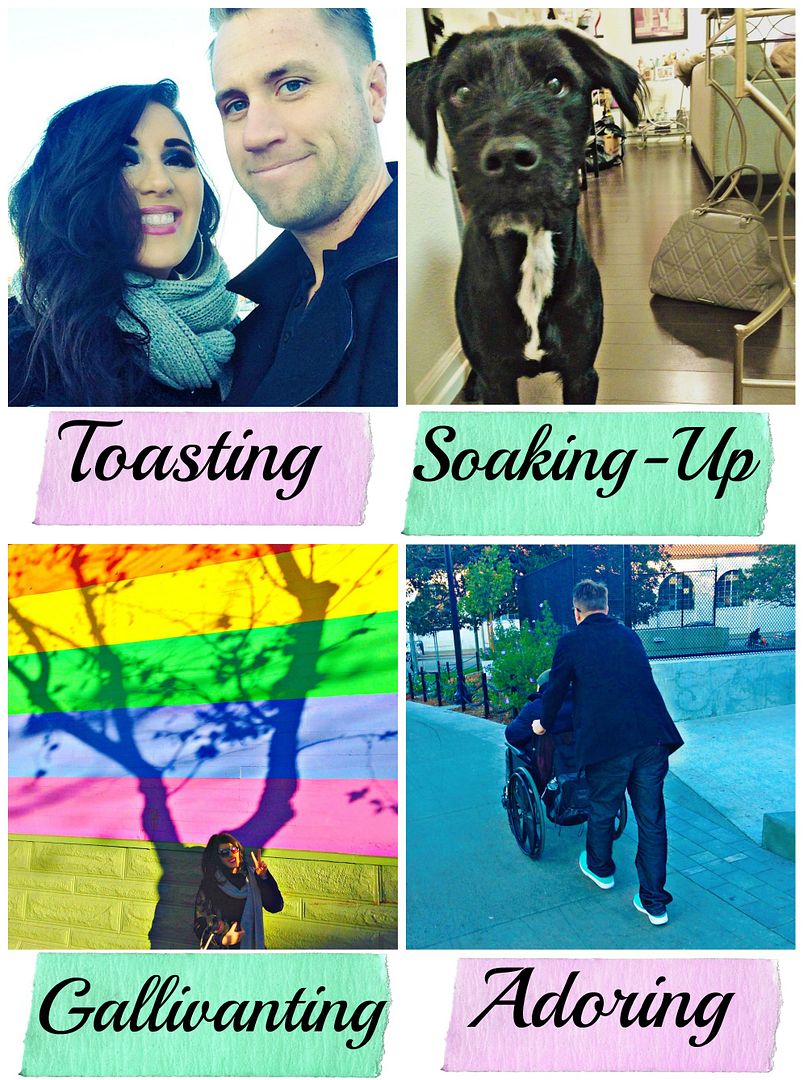 Gallivanting // in the Castro New Year's Day. That neighborhood is another world and I can't get enough of the energy, history, culture and vibrant scene. So fun.
Excited for // January TV! We're obsessed with

(as well as basically crying at...)

"Making a Murderer" right now but "Teen Mom OG" is back on

(praise the lawd! Did anyone watch last night? Why is Farrah so MEAN? I love how she asks her Mom to watch her daughter for a f*cking month - a huge favor- and then angrily tells her to not waste laundry soap while there. My parents would be like "uhh, how about you find your own sitter..." and then throw a cup of water in my face if I acted like that)

and "Biggest Loser" which is really helpful for January goals.
Adoring // watching my husband graciously help someone in need with a few errands at his own offering on New Year's Day. What a way to start the new year and what a sweet man I married. When we passed this woman and she needed help but didn't outright ask for it, he didn't hesitate to offer it and energetically lend a hand. I swooned.
Feeling // really sad walking away from our Xmas tree at the SF tree recycling center. He just looked so forlorn and abandoned. Wah. I felt bad.
Any little, noteworthy thing going on with you lately?