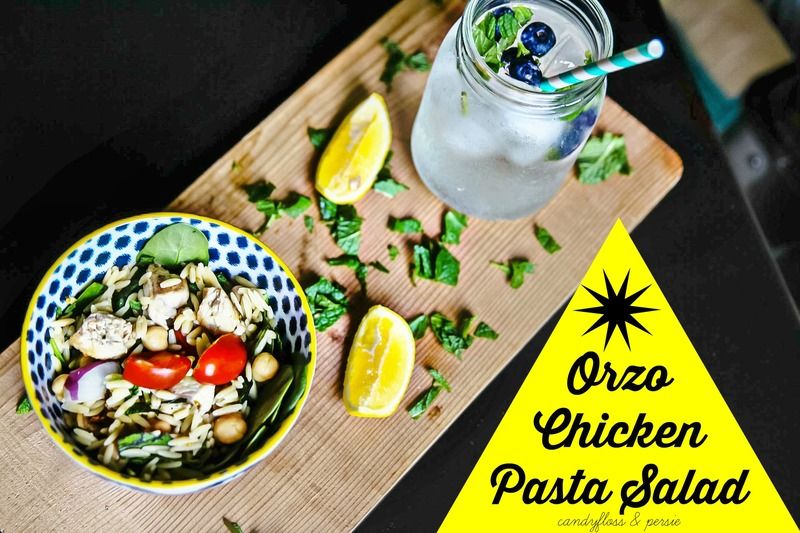 Of all the starches available in Italian cuisine, orzo has always been my favorite. Perhaps because it reminds me of what my mom always made me when I was sick growing up (post here of that) or perhaps because it blends so strategically into so many dishes without overpowering the entire entree while simultaneously soaking up flavors like a champ. Whatever it is, I've long loved it and adore making to-go lunches that incorporate it. And this Orzo Chicken Pasta Salad is so easy and so legit:
4 Chicken Tenders - cut into smaller squares
5 cups chicken broth
2 cups orzo
1 diced bell pepper
3/4 cup diced green onion
1 can chickpeas
1/2 cup pine nuts
1 cup grape tomatoes,

halved
1 cup diced red onion
1/2 cup diced basil
1/2 cup diced mint leaves
Fresh Parmesan Shreds
Vinaigrette:
1/2 cup wine vinegar (rice, red or white all work with slight variations based on your taste preference. I've made with rice and red numerous times. Always good regardless.)
Juice of 2 Lemons

(about 1/4 a cup)
2 tsps. honey
2 tsps. salt
1 cup EVOO

To make vinaigrette: Combine all ingredients in a blender and pulse.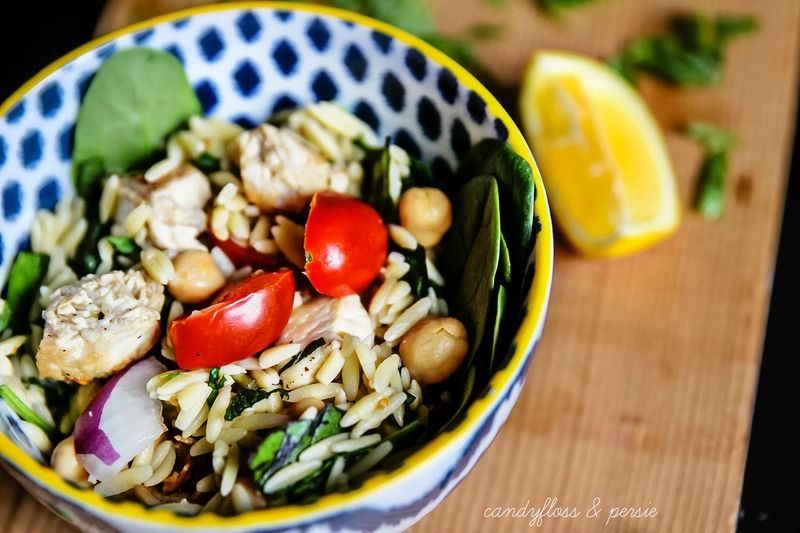 Heat EVOO over medium-high heat, add cut chicken. Cover. Cook for about 12 minutes, stirring as needed until chicken is golden brown. Set aside. Stir orzo into a sauce pan with heated olive oil. Sauté until light brown. Add chicken stock and bring to boil. Cover. Reduce heat and simmer until Orzo is tender and liquid is absorbed

(about 15 minutes)

. Put Orzo in large bowl and mix in the chicken. Add the bell pepper, green & red onion, chickpeas, grape tomatoes, basil & mint leaves. Mix in dressing and stir until saturated to taste. Top with parmesan and pine nuts.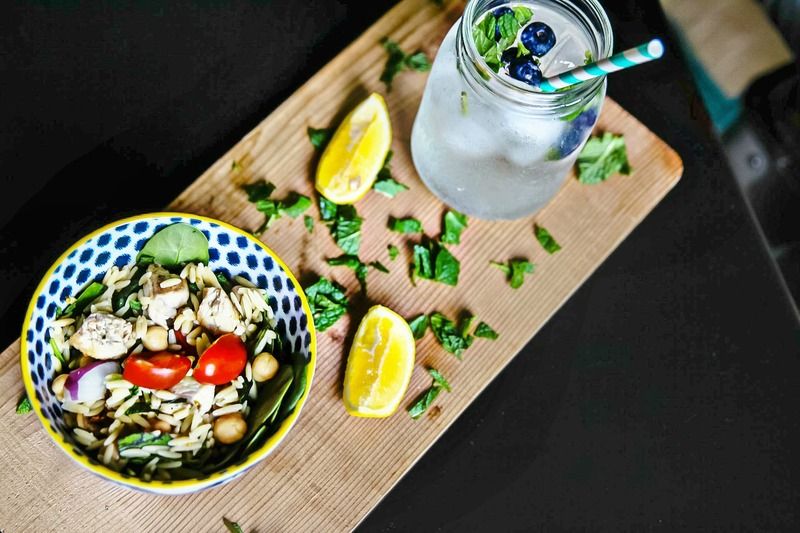 I made it
work lunch friendly
by packing the pasta salad over ample amounts of spinach in a tupperware and securing the dressing in a separate container to mix at the office. I also packed yogurts and oats for breakfast + carrots and grapes with blueberries for snacks.