Chandler is really talented at going into his crate or into the bathtub on command and staying there (the crate to rest, the tub to get clean of course). He doesn't fuss, it doesn't bum him out: He does it without fail as soon as we calmly say either "Chandler, crate" or "Chandler, bath". And we've even tested this trick when he's in the most chaotic of situations such as when he's in the middle of eating wet dog food or racing through the house drunk with joy with his best friend, Maddox. When asked, Chandler will stop what he's doing and zip into the requested location. Good boy.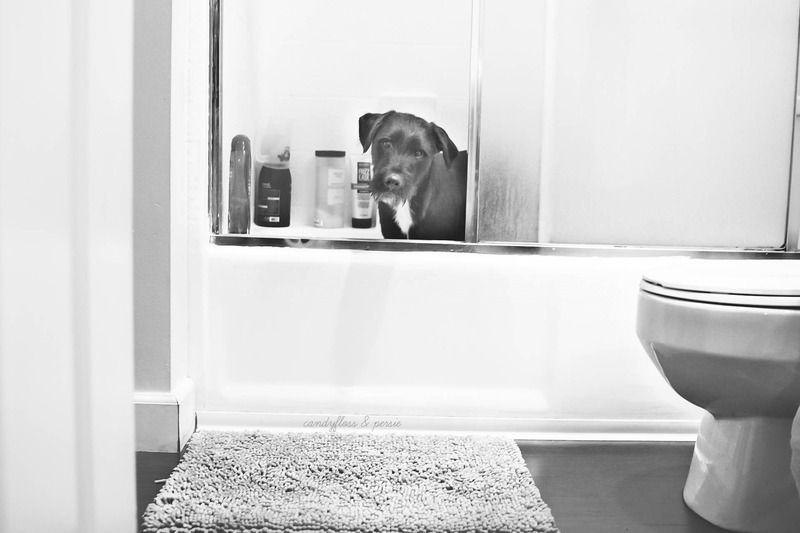 But he's not always a 'good boy'. Such as last Sunday when Jay opened the front door for me as I struggled to keep hold of two arms full of groceries. Chandler, hearing our neighbors, bustled out the front door to shoot down the hall and greet them. Kind? Yes. But he definitely knows he isn't allowed to barrel through the door without permission. Ever.
Now before I go on, I must tell you that our place right now is laid out like Carrie Bradshaw's in terms of the "donut" layout which has the kitchen center

(as the hole in the donut)

and all other rooms connected through doors on the peripheral

(encircling like a donut)

.
Like Ms. Bradshaw's, when you walk in our front door you can take a right and enter the corner bathroom through one door and can head out the 2nd door to find yourself in our closet, leading into the bedroom. This is important because that's where Chandler's crate is stationed, in our bedroom.
So back to Chandler shooting out the front door in a brazen act that he likely regret as soon as paw hit ground. With groceries to put away and food to prep, I simply stood in the kitchen and instructed the naughty pup to head to his crate by motioning into the bathroom and providing him direction as to the path he should take to get there. True to form, he immediately scurried away in adherence. I then proceeded to chop onions, dice tomatoes and rinse beans as I got lost in my Sunday food prep routine.
About an hour later, Jay and I heard a little bit of whining and wincing from that area. I realized that Chandler was still sitting in his crate

[ps: the crate door is open to him]

. So I headed into the bathroom to retrieve the forgiven boy via that route. As I flipped on the bathroom light to make my way through the other door to the closet and into our bedroom, I noticed Chandler standing in the bathtub, softly whimpering with big doe eyes and a wagging tail. It was then that I noticed that the 'other' door from the bedroom had been latched shut which basically made like Gandalf and told him that he shall not pass.
So my little confused Chandler, so dutifully making his way to his crate and realized he couldn't access it, must have figured I was sending him off to the other place we instruct him to go: The bathtub. So he hopped right in and waited. And there he stood, in silence, in the dark, free to leave but wouldn't dream of it, serving his sentence in the bathtub.
Dogs. So much to love about dogs.