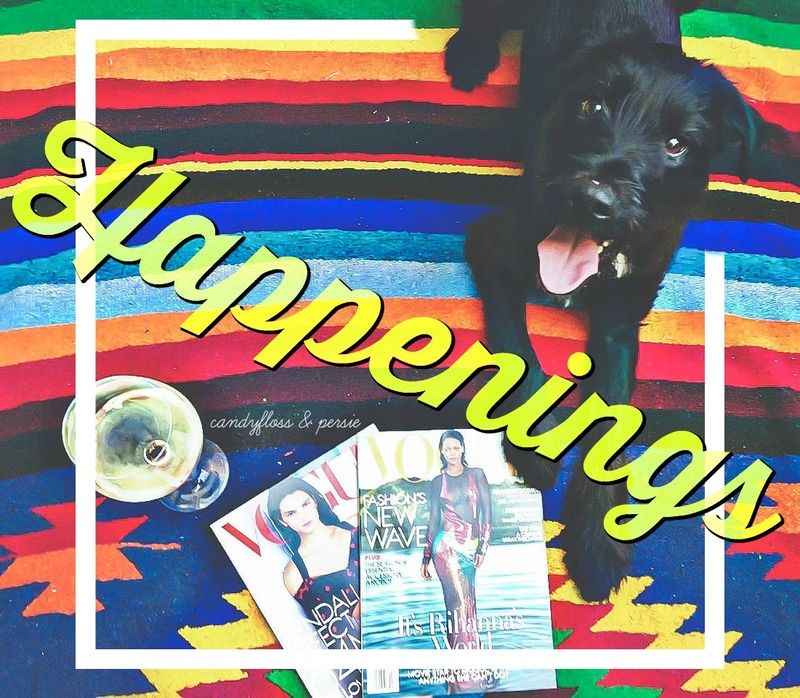 For once in my life, this week and weekend didn't feel like it just blew past me. We had a great and quiet one over in my neck of the woods and I loved the simplicity of it all after weeks of craziness. Here's some little snippets and shoutouts via my iPhone:


**********************
1)

I was elated to walk into work on Friday morning and find out that I won our company's ground-level seats for that night's Giants game. Our plans had gone from
"watch a movie"
to AT&T park right behind home plate and I wasn't complaining.
2)
It was
hot in SF last Wednesday
, super hot. Unfortunately, I spent all of it sitting in a conference room o
verlooking the Bay Bridge
where I got to
stare at surfers, boaters and revelers all the livelong day
as I did my work. I made up for it after hours with a l
ittle set-up on our patio
with
4 of my fave things
:
White wine, a bomb blanket, some good reads and the cutest puppy ever
. So cute in fact, that this photo is twice on this post and even on my Instagram.
#ThatFace
3) As we watched
2 movies on Saturday night
(see #7)
, we had our favorite e
lixir of life delivered, Pho
. We order this quite regularly for delivery and each time we do, it's a battle for the pho bowl. We really only have one that is conducive to the volume and splashiness of pho and
Jay ALWAYS takes it.
So this time,
my meal was presented to me in a huge, huge mixing bowl
that I could barely hold. Just call me
Winifred Sanderson
. Like... Jay. You should have mentioned
when you proposed
that you were
gonna subject me to a lifetime of not getting the pho bowl
and handing me a utilitarian item instead, you sick SOB.
4)
Chandler again on the patio
on Wednesday night. But whereas the first one shows what he does when I say his name so he looks up for the pic, this was him just in his environment; laying, chilling,
being a little homey.
5)
With a friend in town the weekend before last, we basically spent the time
eating our faces off all over town
. So we wanted something a
little more low-key
this rainy weekend. Therefore, we opted to
head west out of the city
and soak in the beautiful
rainy beach
. The Oregon Coast is my favorite place ever
(example here and here)
and I really miss it. But these
NorCal foggy, drizzly beaches
did me just fine in the interim.
6)
My Sunday food prep
. Wasn't too exciting but I cleared out our fridge/freezer on Sunday morning and took inventory of what we had and we planned our meals around that. Therefore, I whipped up a
bunch of smoothies from frozen fruit
and made
turkey sandwiches for lunches
using good bread I had frozen. Jay made a
delicious veggie/meat crock pot meal
using tons of freezer items as well. Our freezer now has way more room and our
grocery bill this week was super low
. Win-win.
7)
We wanted to watch two movies this weekend
, "
The Martian
" & "
Brooklyn
". Since we ended-up going to the baseball game on Friday, we
watched them both on Saturday
after we got back from the coast. "
The Martian
" was smart, witty and a joy to watch, I really liked it. "
Brooklyn
", however,
I loved
. Even Jay was delighted as the scenes rolled out. I highly recommend. I also
loved
snuggling in on the couch on a Saturday night
with Jay and Chandler and having a movie marathon. We don't do that too much on the weekends.
8)
Loved rocking my new
Ann Taylor blouse
and
Zara skirt
alongside a
sea green necklace I got in Italy
while shopping with my Italian cousin in Verona. Fun to wear memories on work days.
A good reminder to keep at it.
9)
Oh it
rained and poured on us on Friday
night at the game but who cares? The seats were great, the Giants won and we were there compliments of my office. What a
fun date night
with my handsome.
On a random note, Chandler always responds

[see also: barks]

when you say "hi!" or "hello!" because he thinks it means someone is here. Therefore, I sent my brother, Conor, this video on Sunday because he always thinks it's so funny when he does that.
And that about wraps-up my mundane but blissful week[end].

I hope yours was spectacular!