I'm in a complicated relationship with high heels. Not so much because they aren't easy to walk in or anything like that

(though, clearly, they are no fuzzy bunny slipper)

but because of their quick physical degradation. My work days require a lot of commuting on the part of my shoes: I walk to the bus stop in the morning. I ride the bus to work. I get off the bus in the financial district. I walk from that bus stop to my office. I wear heels all day in said office. Repeat in reverse cycle on the way home. And while I basically just said "I have to wear shoes to, from and during work", the difference is that there is so much city concrete involved and that stuff eats up the tips of heels in the same pattern that Cookie Monster gobbles up his sweet treats. And then I'm left with the dreaded jagged tip on my heel which makes a loud ruckus wherever I go. Tips are easily replaced on heels, for sure. But I don't have much of a desire to constantly drop my shoes off at the shoe guy every 5th day to replace ground-up heels.
Anyway, much of this has been mitigated by the fact that I wear flip-flops or tennies during the commute portion of my day. The part that is still hard is that the job I have requires a lot of meet and greets with clients and business contacts for lunch. And I'm not going to wear flip-flops with a business suit for something like that. So my heels still suffer on the streets of San Francisco.
For all of the reasons above, I can honestly say that these shoes are just about the most decadent, amazing work heels I have ever had. Not because they are overly boastful in colors or aesthetics. Quite the opposite. They are humble and quiet and all sorts of sleek. But really, it's that heel. That beautiful, thick, won't-grind-down-after-three-city-blocks-heel. And that my friends, has made all the difference.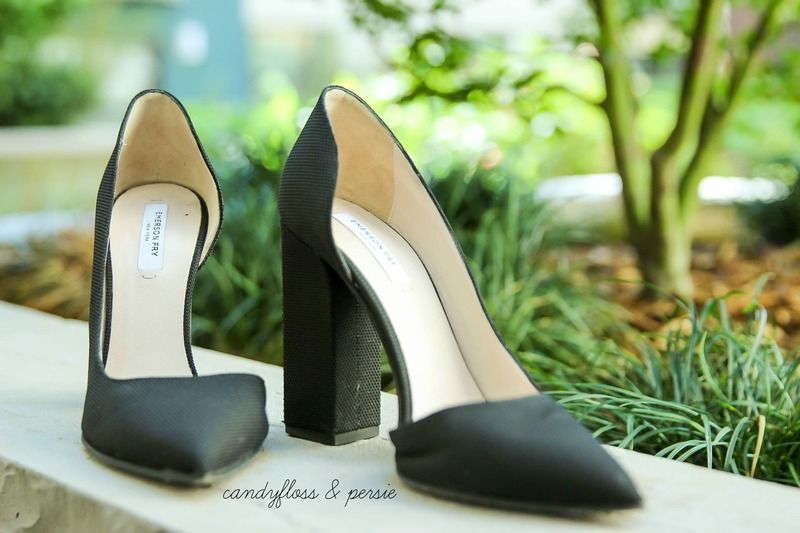 Thank you Emerson Fry for making a city girl's working life a little bit easier.