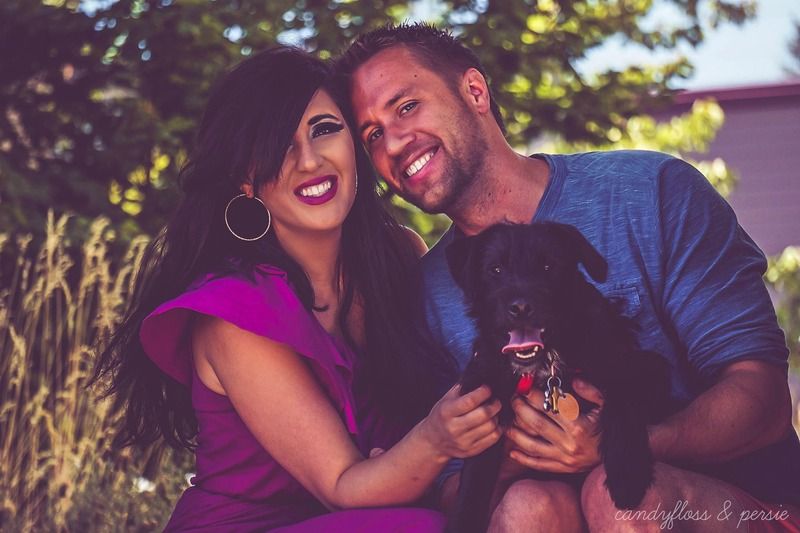 Jay and I met up outside our offices on Monday evening to take the bus home together. Amazingly, in the entirety of this large city, our office buildings are next door neighbors. Which serves as cheap therapy after a long day or as a lifesaver when one of us forgets our keys

(or needs to borrow a cup of sugar, obviously)

. With Jay having spent the prior weekend in Arizona for a bachelor party

(which also resulted in lots of sleeping after he got home on Sunday)

, we hadn't seen each other the few days prior. On top of that, he had a flight leaving early the next morning to head off to Washington DC for the duration of the work week. Wanting to catch-up but both exhausted, we agreed to come home and take the dog on a longer walk, make an easy dinner and retire early.
After a good twenty minutes of conversation as we commuted out of the financial district, we arrived home to the usual spring-loaded happy dog and quickly leashed him up and dispersed back out the door to walk through Pacific Heights. About ten minutes into our stroll around the neighborhood, as Chandler protruded his vibrating nose rudely into the ankle space of every single tree, a mom walked by us holding hands with her approx. nine-year-old daughter. The little girl's plaid Catholic school skirt, embroidered collared blouse and bouncy backpack made it clear she was coming straight from school. As they ambled by us, I took a pleasurable note of their relationship. The little girl was beaming as she chatted all about her day to her engaged mother. Their clasped hands swung slightly in unison and the hints of sun danced on the tops of their heads as the trees bounced about in the cool breeze. Bright pink leaves flourished and encircled them with each step as they passed. I immediately made note to Jay:
Me:
That seems like a nice moment that you'd look back on.
Jay:
The mom and the girl?
Me:
Yes. Just look at them. So sweetly holding hands, walking home from school, talking about their day. Presumably heading to their house to make dinner and go about the night. But catching-up here first. I mean, that little girl won't hold her mom's hand forever, you know? It just seems like one of those little moments that you'd look back on fondly as a reflection of this chapter in your life. Not a big ordeal like a vacation that would obviously resonate, just a sweet walk with your daughter, holding hands, hearing about school on a beautiful April day when she was nine.
Jay:
Yes. I see what you mean. Kind of what we are doing right now? Living in the city, going on a walk with Chandler after a busy day at our offices and taking the same bus home. Who knows where we will be in life in a few years. This is a nice moment that I like very much with my family.
I couldn't have agreed more. A lot of times I think we think we need A LOT more than we do to ensure we have a good time. Or to seize life. Or to make memorable experiences. It's nice to make note of the fact that the little moments can be just as significant. Kinda like the very last line in "The Office", where Pam sums up the reason they had all been filmed for the previous nine years:
"There's a lot of beauty in ordinary things. Isn't that kinda the point?"