Admiring ... Rooftop views. One of the things I love about it here is that you don't have to be up too high to get amazing city views. The ebbing and flowing of the hills allow for pretty dope skylines even at a low elevation. On Sunday, we were on top of this 4-story building and could see all of this. How pretty!
Organizing ... Our front closet and kitchen. I'm gonna tell you something that I'm really proud of as well as equally embarrassed about: I didn't leave our house Friday night to Sunday morning. I didn't even step outside (sent Jay off on the dog walks and recycling runs). That's because I dismantled our kitchen and front closet (the only closet we have in the house outside of our bedroom closet, so it tends to get full) and sent a bunch of stuff off to Goodwill while streamlining the way we store things now. It's soooo much better and I think was way worth the lame weekend (I did manage to watch about 7-8 movies by the time Sunday rolled around. I don't mind cleaning when I have entertainment in the background). Next up: Our bedroom.
Europing ... at Belden Place in the Financial District. This little euro-inspired alley is so worthy of a post on its own accompanied with pics from a real camera. However, it's in the Financial District so I'm only ever there for work lunches or happy hour after leaving the office. Meaning, I never have my camera with me and who in their right mind ventures out on the weekends to the same 'hood where they work during the weekdays?!?! I would guess only bartenders and severely dangerous psychopaths would do something that masochistic. Jay and I left work and got happy hour there on Friday at 5 then walked the rest of the way home (we can walk from work to home in about 40 minutes). Its Parisian vibe, adorable lights and variety of eateries make it a must. If you are in downtown SF proper for work, I suggest paying it a visit!
Wishing ... I had more free time. I feel like this is something everyone complains about but I swear I never have adequate "fun" time to do the things I want outside of work and life's inherent necessaries such as cleaning, grocery shopping, etc. Friday afternoons are such a rush of happy emotions and then before I know it, it's Sunday evening again. Frustrating.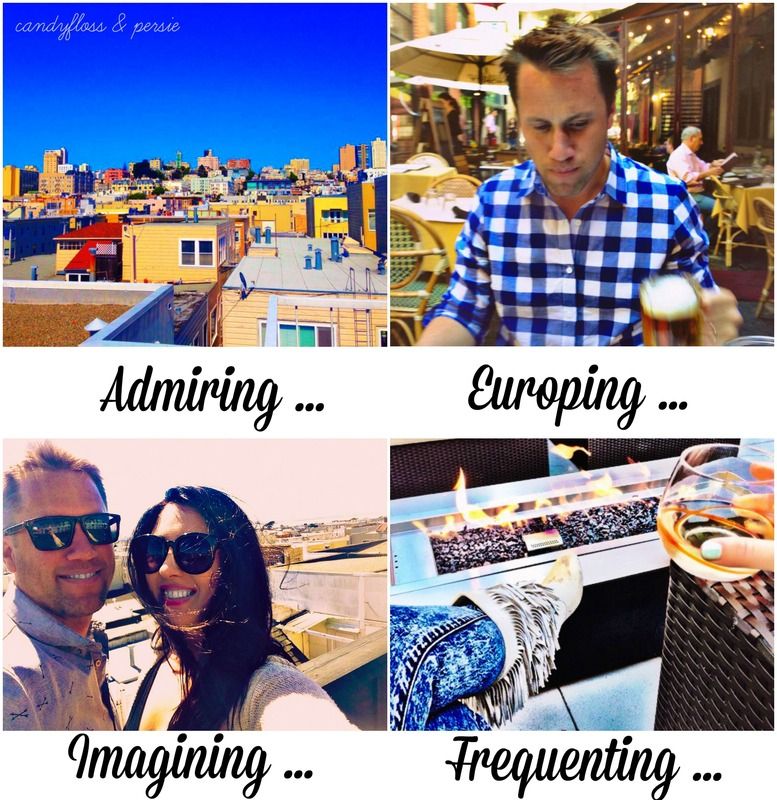 Imagining
...
what our next place will look like
. I know I am a broken record but we are so ready to move. Not because we hate our current place -
it's fine
- but because we just know the next place will be home for awhile and
we're anxious to get in and settled in it
. We spent much of Sunday scouring our favorite neighborhoods and ogling over what we saw. Just ready to live in an older place with some character. I have even been on the lookout for home decor items on sale in prep of that even though we can't even move until August. For instance, we currently have a King Bed boxed-up and stored behind our current bed because it was such a good deal. Not opening it until we move but there it sits. We're very ready to plant firmer roots here in the city and August can't come fast enough.
Awaiting... two upcoming bachelorette parties. I have one this month in Central Oregon and one in July in Vegas. Getting to get out of here for a bit and see my girlfriends? Yes, yes and YES.
Frequenting ... our courtyard at our apartment. We like to put on warm jackets (it's chilly at night), grab something to read and a glass of wine and go sit out by the fire and relax in shared silence. There's no wi-fi out there which forces us to immerse ourselves in other mediums. Helps too that Chandler likes to curl up on my lap as well as I lose myself in whatever I'm reading. These little moments are the kind of things I want to remember in life. They require little but deliver so much contentment: A warm place to relax, another species who entrusts me enough to slip off into dreamland while my arms encircle his furry little body, a great book penned by an imaginative mind and a partner to enjoy the silence with. There's a lot of beauty in ordinary things.
Welling-up ...
at "The Sandlot". I watched that on Saturday and seriously almost cried many times even after seeing it for the 12,000th time. Not because the movie contains sad scenes but just because it's done so d*mn well. It captures childhood like nobody's business and is truly a treasure of a film. In other news, Benny is still as much of a cutie as he was when I first saw it at like age 9.
Happiest Monday!