Hello again! I'm writing this on Sunday as the blue hour tapers off into a foggy, blackened night. I'm currently wearing a raspberry colored henley top and heather grey sweat pants. Adjacent to my right, a pine-scented candle flickers and Netflix is on pause so I can type these words. The air outside is cold, the air inside is a perfectly warm and the lighting is soft and welcoming. Good gosh do I love the colder weather! It was rainy this weekend - alllll weekend. And I was pretty stoked on that. While sun forces you to trek outside (of course, that is a good thing but sometimes I resent the push to be go-go-go on the weekend when I could benefit by just relaxing), rain forces you to make your inside better.
So today was a reflection of that. I started the day by taking Chandler on a quick walk out to the bridge so he could do his morning constitution. Then I arrived home and began my day of coziness. Jay, his bro (Logan) and I sat in the living room watching movies and sipping coffee and eating eggs. Shortly thereafter, I made my way to the kitchen, put on french music and bl

issfully

prepped our dinners and lunches for the week for a few hours - with the rain pouring outside and the onions sizzling inside, I felt like I was in heaven. Jay and his bro watched TV, sipped tea, slept, wrestled the dog and kept the vitally of our living room alive during my kitchen tenure.
At the end of the day, with homemade soups made, lunches packed, dog showered, candles blazing, house clean (a joint effort between the two of us) - I settled in to my actual serene night. Not before snapping a few pics of the ambiance on my phone: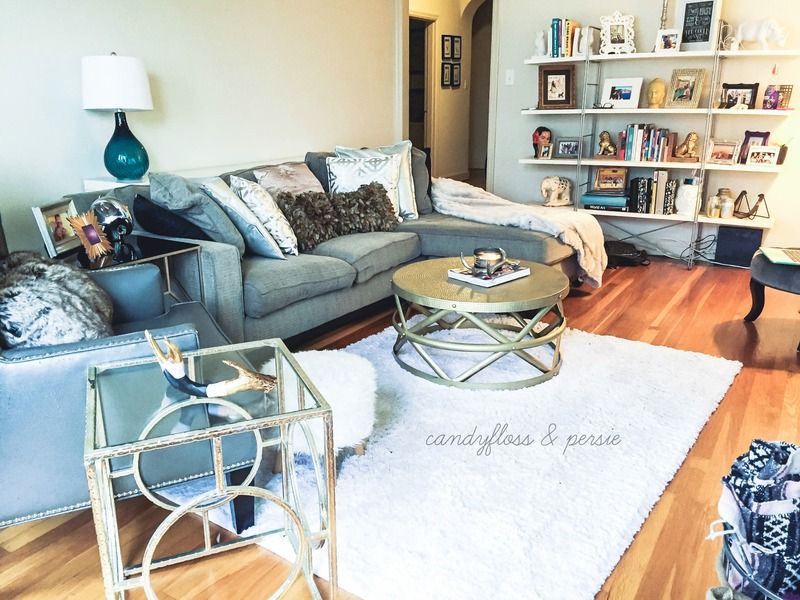 ^Living room bliss